The season of summer will end on Tuesday this week. Time flies by! My sister had this poem on her website not too long ago and I thought it would be good to use for this occasion. Here's a poem to celebrate summer's end, enjoy!
The season of school vacation and fun,
And the big and bright, big sun,
A time to relax and play,
Longer is the length of the day.
Walking on the beach,
Or eating a juicy peach,
Biking on a mountain trail,
Or aboard a cruise about to sail,
The grass and trees are beautiful and green,
When camping it's a beautiful scene,
The thunder rumbles and the lightning crashes,
There are tennis matches and 100 meter dashes.
And even when the summer is gone,
It never stays away for long,
And even though the tan lines fade away,
The summer memories will always stay.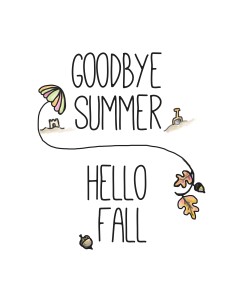 Goodbye summer, hello fall. I hope you all had a wonderful summer and look forward to the upcoming season. I hope school is also going well for all of you that are in school and you're studying hard and having fun. Have a good week!

All material is protected © Copyright 2015 by anahorvath.com
All material is protected © Copyright 2015 by allysonhorvath.com