Three words, cupcakes are amazing. There are so many wonderful and delicious recipes out in the world to make mouth-watering cupcakes. On the show "Cupcake Wars" on the Food Network, my sister and I found an amazing recipe called "Toodee Fruity-Blueberry Cheesecake Cupcakes". Now this is one delicious cupcake recipe. This is my review for the cupcake: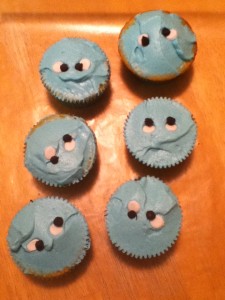 This cupcake was so much fun to bake! Even though these cupcakes took a little over an hour to prepare, they were really fun to make. Creating the eyes with the fondant and the batters for the cupcakes was just very entertaining and it created a pretty light, happy mood for everyone helping out.
It had a unique and yummy taste. With the combination of blueberry cheesecake and pound cake, the cupcake had a very unique taste. It tasted unlike any other cupcake. It was mouth-watering, light, and just delicious!
It became pretty popular. My friends and I had a cupcake baking contest at school. This cupcake was rated most favorably. Most of the teachers really enjoyed it and so did many other kids.
It was moist. When a cupcake is moist, it is more easy and enjoyable to eat. A dry or heavy/thick cupcake is usually not as good, but these Toodee Fruity cupcakes were just right.
The cupcakes looked pretty cute. In the end, after the cupcakes were done baking and they were fully decorated, they looked adorable! Their eyes were silly but fun to look at. The cupcakes also looked like a pretty happy bunch of cupcakes.
To sum it up, this "Toodee Fruity-Blueberry Cheesecake Cupcakes" recipe was wonderful. I highly recommend it. This recipe can be found on the Food Network website and it's a great cupcake to make. Why don't you give it a try?