I've been really lucky to do more travelling than usual this summer and this past Friday, I got home from New York after spending a week there, competing at a modeling and acting convention. I will definitely agree with most that New York is a really cool and different city, but I think I'd prefer my Rocky Mountains and 300 days of sunshine in Colorado.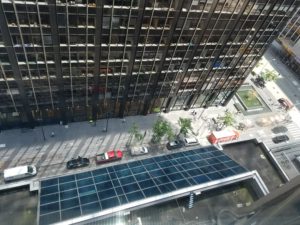 My mom and I arrived in New York on the 9th, early in the morning. Our trip began with a thirty-minute taxi ride from JFK to the Hilton Midtown in Midtown. Wow, was that an adventure. Taxi drivers in New York City are RUTHLESS. The man we had driving us was super sweet but once he got behind the wheel, he became an aggressive, hardcore racecar driver. It was kinda cool to see how he dodged cars and semis and sped down the highway. We got some pretty good air hitting a jump one time too. What a thrill ride!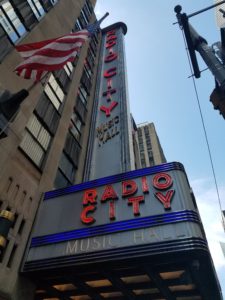 Once we arrived at the hotel, the week was a whirlwind. There were a lot of outfit changes, late nights, hairspray and makeup, and quick runs to grab food. I wish that my schedule at the convention allowed for me to do a little more sightseeing and wandering around the Big Apple, but it is what it is. The convention itself, was fun, but not nearly what I expected it would be. I think that for some people, it opened doors, but for the most part, it seemed fake. There were a lot of promises made by agencies and the convention themselves that were not followed through on and that's ok. I had a lot of fun and learned a lot from the experiences I had and I'll never forget that adventure.  Something I learned from my experience this past week and the whole experience I had with my former agency was that you have to be really careful in the modeling and acting industries because there are a lot of real, good people and there's also a bunch of sneaky people who might seem like they are legit but actually aren't.  They could care less about who you are and are only concerned with how much you're willing to pay to sign their "contract". I respect who I've worked with in the past and I wish them all the best and I'd just like to say that it's tough to discern who the real people are but after this interesting journey, my eyes are more open than ever, and I know what I have to do.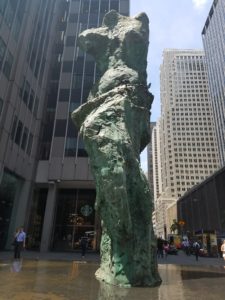 When I had time to be outside of the hotel, my mom and I had a lot of fun. We visited the Rockefeller Center and took a tour of the NBC Studios which included seeing the sets of the Tonight Show, SNL, and the Late Night Show with Seth Meyers. That was super cool. It was exciting to get to be in the same room and even step in the same places as some famous and talented people. My mom and I even got to make our own late night TV show at the end of our tour and we enjoyed that. That was probably the highlight of my NYC trip.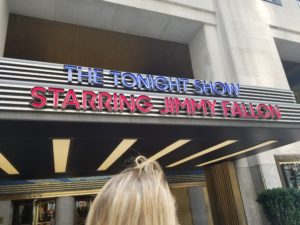 We also visited Central Park and Times Square while in the Big Apple and those were both cool places to visit. I honestly imagined Times Square, specifically where the ball is dropped on New Year's', much bigger and wider than it was. There were a lot of sketchy people and pushers making attempts to sell my mom and I stuff or get us to take pictures with them. That was definitely uncomfortable. Also, it was incredibly hot and humid while we visited Times Square and that made it a struggle to do a lot of walking. We spent about thirty minutes wandering Times Square and then frantically searched for the nearest Starbucks or air-conditioned place to cool off and head to Central Park. After a quick trip to get some iced tea, we walked to Central Park and I enjoyed seeing nature and trees and endless (not really) green. It was a nice escape from the dirty, crowded, and crazy place that New York City is. I enjoyed getting to see the many different people in Central Park and see a variety of plants and trees, because trust me, there were soooo many different types of trees. It was pretty cool.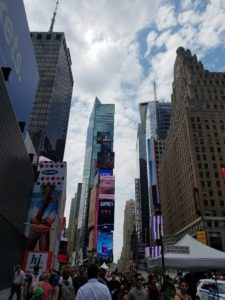 At some point during our stay in NYC, we also managed to find a few good places to eat at, like Fresh & Co, an artisan bakery with really yummy sandwiches and coffee, and a great pizza place called PizzArte. Food, well actually everything, was EXTREMELY pricey in New York and it was crazy how much we spent on food. At PizzArte, one of the pizzas we got was $24!! Holy cow, was it expensive, but it was also probably one of the best pizzas I've ever had. We also found an ice cream truck chilling right by our hotel one day, and that half-and-half ice cream cone was one of the best ice cream cones I've ever had. I never wanted it to end.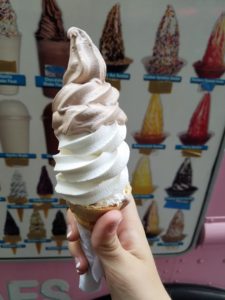 I did enjoy my time in New York City, but I will honestly and confidently say that it's not my favorite city. I wish I did a little more sightseeing, as mentioned earlier, and I hope to go back in the future and see more of the city. I could do without the gross smells and the unhappy people and the sketchy people and the trash constantly fluttering the streets and the awful traffic and sound of sirens every hour or so, but not every city is perfect. Actually no city is perfect! The time I had in New York was worth it and I'm ready to go back (whenever I do) and have another adventure.