As I sit in the airport and wait for my flight back to Denver, I'd like to reflect on my experience back in our nation's capital. I am exhausted!! For those of you who didn't know, I attended Envision's Presidential Inauguration Leadership Summit for five days beginning this past Wednesday.
A lot of people have been asking me how I was able to attend this leadership conference, so I'll answer that first. Back in 6th or 7th grade, I attended the Junior National Young Leaders' Conference (JrNYLC) in Washington D.C. Because Envision is tied to the JrNYLC program, I was invited back as an alumni for the leadership summit and inauguration. My mom came with me to D.C. and she was attending the "Parenting the Future" program that was a part of Envision's program.
When I arrived on Wednesday, I was greeted by Envision staff at the airport and then taken to our hotel which was the Marriott at Wardman Park. It was one of the nicest hotels I've EVER stayed at. The desserts we got to have for lunch and dinner were the bomb and the rooms were absolutely wonderful. The other scholars and I got to get to know each other and then we were broken up into our delegations for change, which were smaller groups of students sorted into interest of things like education, medicine, national security, etc. I was in the "Cure for the Future" delegation and we focused on our healthcare system and curing the diseases of today. In our groups, we had to create a solution of some sort to reform the healthcare system or work on creating cures and funding for certain diseases. For those solutions, we had to propose our ideas in an essay and create a short, persuading presentation. Wednesday was a very long and busy day.
Early Thursday morning, we got up and headed to George Mason University to listen to a great lineup of speakers including Paul Begala and Tucker Carlson. After a yummy Chick-Fil-A lunch, we got to hear Mr. Ziauddin Yousafzai and Malala Yousafzai (via satellite). Their messages were extremely powerful and motivating and it was really moving to be in the presence of such brilliant, successful, and great leaders. The most influential thing I learned that day was from Malala who told us all to never stop dreaming big. Malala also said to never be afraid to fight for what you want. Others won't fight for you, so you have to take care of yourself. That night we got to go to bed a little earlier, and that was great because Friday was going to be a looooong day.
Inauguration day. My roommate and I had to wake up at 3:30. AHHH! It was so early and everyone was so sleepy. We got up so early because we had to eat breakfast and get on our buses by 4 or 4:30 so we could get the program's buses as close as possible to the National Mall. The program had made a deal with the Secret Service to get our buses out by 7 am and the ride there was long so it was important to leave early and get there in time! Once we arrived at the National Mall, we had to walk for about a mile. It was still dark as this was happening but as we got closer to our security checkpoint, the sun was rising and we were passing by the Washington Monument as this occurred and it was absolutely stunning. It was definitely a cold morning but it wasn't so bad that I was wearing like ten jackets. I was bundled up for sure, but I wasn't a walking marshmallow. Once we got through the tight security checkpoint, we were in the National Mall and got to go to our warming station at the National Natural History Museum.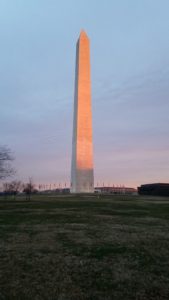 We had about an hour to explore the museum and refresh and then it was time to head out for the inauguration. At about 10 am, the inaugural ceremony began and it was amazing and so special to be a part of something so monumental and important to American and world history. There wasn't that much protesting or violence as the inauguration took place and the place was definitely packed! I did attend President Trump's rally when he came to Colorado and looking back on that, it's amazing to say that I've been in the same place as our president twice. Right after Trump gave his inaugural address, we headed back to our buses and got a chance to rest back at the hotels. A nap was well needed!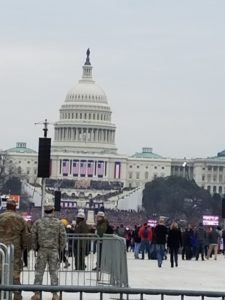 The next day, Saturday, we were back at George Mason University to listen to round two of the speakers, which included: General Colin Powell, Spike Lee, Governor Martin O'Malley, Carly Fiorina, and Abby Wambach. All of the speakers had interesting and meaningful things to say, but General Powell's words stuck with me the most. He said that it's okay for people to dislike President Trump but it's not okay to disrespect him. Trump is our president now and people need to accept this and support him. We want him to succeed because we all live in this country. We need to be united. Everything is going to be okay for our country. We just need to trust that what happens will happen for the best. After a wonderful day at George Mason University, we headed back to the hotel to get ready for the inaugural gala Envision had planned for us.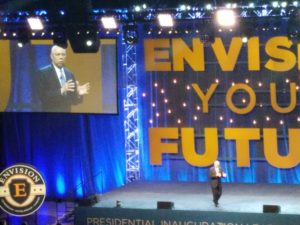 The gala that night was held at the Air and Space Museum and was opened exclusively to our program. My friends and I got all dressed up and danced the night away. We also got to explore the museum while we were there and it was awesome getting to have an actual dance at a national museum. Because many of the people in my group were having early flights the next morning, we all said our goodbyes that night and went to bed.
And now here we are today on Sunday. I'm chilling at IAD with my mom and we're waiting for our flight home. I really don't want to leave D.C. There's so much history and excitement in the capital of our country all the time, and it's something I absolutely love. This is definitely not the last time I'll be in Washington D.C. I hope to be back soon!